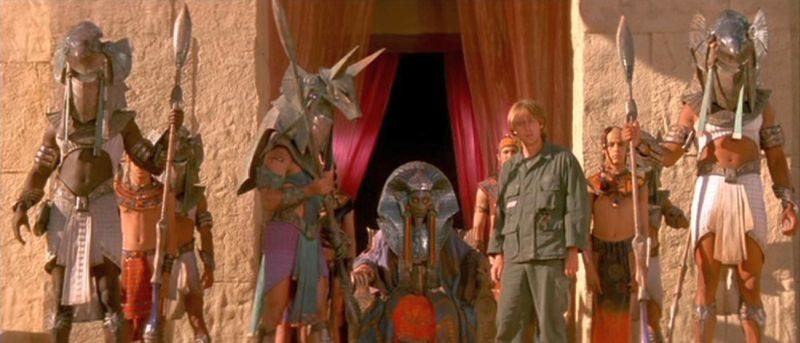 What's the best part about living in the distant future? There's so much more past for you to explore! We take a look at some of science fiction's most illustrious antiquarians.
It's pretty much impossible to discuss fictional archaeologists without talking about Indiana Jones, but until a year ago he arguably wouldn't have belonged on this list. If nothing else - and I'm pretty sure that that film didn't accomplish anything else - Kingdom of the Crystal Skull firmly ensconced Indy in the realm of science fiction. Which is probably a good thing, considering Dr. Jones is generally considered the quintessential fictional archaeologist, the iconic representative of everything alluring about the discipline - solving history's mysteries, going on exotic adventures, stealing priceless cultural artifacts...it's all there! That said, Indy can't really be considered the preeminent archaeologist in science fiction.
That title would probably have to go to Stargate's Daniel Jackson, who in his various incarnations headlined both the original movie and a decade's worth of television, making him arguably the most prominent archaeologist in all of science fiction. As a nice bonus, he even occasionally bordered on being a vaguely realistic depiction of an actual archaeologist, particularly when he used his linguistic know-how in the original movie to decipher the language on the other side of the Stargate. And honestly, who can resist the oddball charm of James Spader?
There are plenty more scifi archaeologists; in fact, far more than any one list can hope to capture. But here's a rundown of some of the most notable.
Doctor Who
Despite his stated policy of pointing and laughing at archaeologists, the Doctor does seem to spend a lot of time with them. If I had to guess, it's probably because nothing beats an archaeologist when you need to accidentally release an ancient evil. There's Professor Parry and his assistant Viner from the Patrick Troughton classic The Tomb of the Cybermen – I think you can guess which bunch of monsters they awaken (hint: it's not the Daleks). But nobody beats Marcus Scarman in Pyramids of Mars when it comes to unleashing evil; he lasts for maybe thirty seconds of episode one before the all-powerful alien Sutekh murders and possesses him.
The new series has only introduced one archaeologist, but Professor River Song is fairly important, what with her being the Doctor's wife and all (or not…I'm still not completely clear on that point). Still, she's not the first such scientist to play a major role in the Doctor's life – that honor goes to Professor Bernice "Benny" Summerfield, a hard-drinking, wise-cracking archaeologist from the 26th century. Originally created by new series scribe Paul Cornell in his novel Love and War, she both accompanied the seventh Doctor and had her own adventures in a horde of novels and audios.
Star Trek
Jean-Luc Picard was a huge archaeology buff, studying under the preeminent archaeologist of the 24th century, Richard Galen. He was even entrusted with completing Galen's final project, which revealed…well, I think I've dealt with that before. Picard also romanced the ethically dubious Vash, who was really more of a looter with a diploma than anything else.