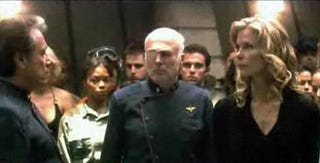 Next week is the series finale of Battlestar Galactica, and I'm starting to freak out. Will we really "know the truth," as the ads promise? I'm dubious. Tell us what you think during the episode!
Spoilers ahead!
So there is going to be some kind of death-defying mission in tonight's episode, part one of "Daybreak," which will come to a two-hour conclusion next Friday. And hopefully we'll see the outcome of Starbuck's identity crisis, as well as Boomer's hybrid baby crisis. But mostly this episode will be about what's to become of the Galactica's dying body.
Tell us what you think as things unfold tonight! I can't believe it's almost over. Really, I am in the denial phase.