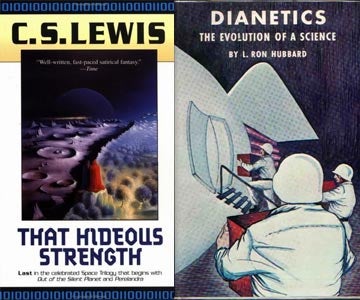 Science fiction's best authors chart a vast and unpredictable cosmos - but they're not above making a little wager here and there on earthly matters. Here are SF authors' weirdest (and most productive) bets.
Note: Most of the stories below are anecdotal at best, and based on rumor and urban legends. Where possible, we've provided actual documentation.

L. Ron Hubbard's "start a religion" bar bet:
This one is commonly dismissed as a myth... but it's also like kudzu on the Internet. Supposedly, L. Ron Hubbard bet Robert Heinlein that he could make a ton of money by starting a fake religion. (In one version, Heinlein bet that his own invention, non-monogamy, would be more successful.) Or maybe Hubbard made the bet with Philip K. Dick. Or Arthur C. Clarke. Or George Orwell. Or John W. Campbell. No, wait - it was Ray Bradbury.