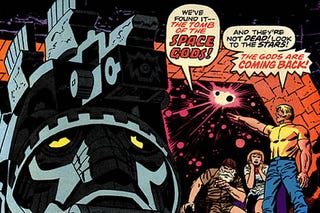 We've all seen what it inspired (including Battlestar Galactica and Stargate), but now a new movie adaptation will take the classic Chariot of the Gods to the masses in all its (lunatic) glory.
The best-selling 1968 non-fiction book, in which Erich von Daniken suggests that ancient civilizations were visited by aliens who were accepted as gods, and gifted humanity with their technology, has not only been responsible for inspiring some of our favorite SF of the last thirty years (I mean, Jack Kirby's The Eternals alone makes it worthwhile, come on), but also been - understandably - discredited and derided by those in the science-based communities, making it all the more understandable that Paradox Entertainment plans to adapt the movie into a more obviously fictional work.
Paradox, which announced their purchase of the rights to von Daniken's book earlier this week, will be working with producer Mark Ordesky to bring the book to the big screen; Oredesky was one of the people responsible for New Line's The Lord of The Rings trilogy, meaning that he's probably already used to hardcore fans with great expectations. But I don't think he's met any extra-terrestrial fans yet...
Paradox to ride 'Chariots of the Gods' [Variety]