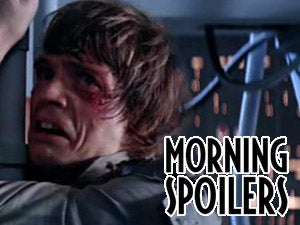 Spoiler outrage! There's a Thor casting call, and new hints on Star Trek and Green Lantern. Plus crazy pics from Battlestar and Dollhouse. All that, plus Wolverine, Ghost Rider, Doctor Who, Lost, Supernatural and Reaper.

Thor:
Is Marvel looking to cast an unknown as Thor, in the wake of their money issues? In any case, they put out an open casting call for the extraterrestrial thunder god:

Male. MUST BE MID-LATE 20's and SIX FEET OR TALLER. LEAD. Physically powerful, very handsome, occasionally egotistical, petulant, and wild. A natural warrior with a quick charming wit who must be genuinely and severely humbled before becoming the compassionate, mature hero of our film.
And it's filming from July to September. [SpoilerTV]
Star Trek:
John Cho says his Sulu will be more innocent and more caught off guard by his experiences on his first mission. He's not supposed to be on the Enterprise, and he's definitely not supposed to be helmsman. "He's thrust into the position of helmsman by accident." [Sci Fi Wire]
Green Lantern:
As you've heard, this film is Hal Jordan's origin story, and it sets up the character in a believable way before delving into all the mythos. And there's loads of humor along the way. [Coming Soon]
Here's a new picture of Deadpool, still looking disappointingly un-scarred. (Bigger version at link.) [Superhero Hype]

Ghost Rider 2:
Nic Cage says if he does the sequel, he wants it to "go deeper" into the action-horror element. It should "keep us asking questions," and "keep it interesting on a philosophical level." [MTV via Shocktillyoudrop]
Says producer Ron Moore, "This is not going to be the ending you're anticipating." And Jamie Bamber says, "In the finale, it goes back to the beginning of Apollo and Starbuck, and you see where they come from." (This is probably literally true, since IMDB says Zack Adama is back, presumably in flashbacks.) [Chicago Tribune]
And here are some pics from the three hour finale. [SpoilerTV]]

Doctor Who:
Somehow I missed this from Friday. David Tennant takes us behind the scenes on the Easter special, "Planet Of The Dead," once again. [Planet Gallifrey]


Dollhouse:
So who really runs the Dollhouse? Says Joss Whedon, Adelle DeWitt is not the uber-boss - there are people she answers to. And her history isn't what you'd expect, nor is it what actor Olivia Williams expected when she took on the role. [TV Guide]
And here are some pics from episode seven, "Echoes," where Echo goes onto campus and reconnects with her own past. (And I'm pretty sure this is the episode whose script pages we reviewed, way way back in November. I think the idea that Echo is programmed to be an off-duty dominatrix is even more hilarious now that I've seen her outfit in the episode.) [SpoilerTV]