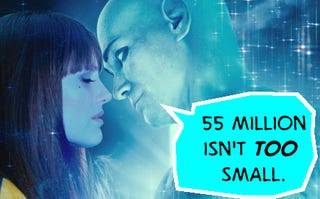 Watchmen's opening weekend gross of $55.7 million was, depending on whom you listen to, either a triumph or a disappointment. But what really happened this weekend, and what does it mean?
Firstly, to placate the nervous: Yes, $55.7 million is a lot of money; Watchmen's first weekend is the third-largest March opening of all time (even including adjustments for inflation), second largest IMAX opening (behind The Dark Knight), 12th largest superhero movie opening (20th when adjusted for inflation) and 6th largest R-rated opening (14th when adjusted for inflation), none of which is to be laughed at. Furthermore, Warners domestic distribution president Dan Fellman has said that the studio is "pleased" with the opening weekend. The New York Daily News is even predicting that the movie's success will usher in even more superhero movies - although, admittedly, the examples it cites were all greenlit before the movie opened.
However.
(And you knew there was a "however," didn't you?)
Even ignoring the fact that all the talk of Watchmen beating Zack Snyder's previous movie, 300 to take the March crown was optimistic at best (Although I'm unconvinced by the "The length of the movie meant that it never had a chance" arguments, I have to admit; Watchmen is only 13 minutes longer than The Dark Knight, after all, and the latter outperformed the former by more than 100% per theatre in its opening weekend), there are still signs that Watchmen's performance may cause headaches for its producers after all. The worrying drops of the three days from the movie's weekend - $25 million to $19 million to $11 million - is noteworthy, although whether it's because of negative word of mouth or simply what happens when all the fans see the movie on opening night and then you're left with an somewhat-disinterested general public is open to question. We'll get to see in following days, and especially this coming weekend, whether non-fans are taking to the movie (as well as, perhaps, how much repeat business the movie gets from its most eager supporters).