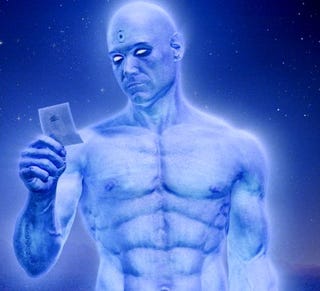 Translating Watchmen into a single movie is next to impossible, without giving some plot lines and characters the axe. But what can you live without? Find out what was cut from Watchmen, including spoilers.
Sweet Chariots And Segways:
Two things from the above Watchmen comic panel are completely missing in the movie. Yep, gone are Rorscach's pocket full of Sweet Chariot sugar cubes, and Nite Owl's sweet hover-board ride. Why do-away with the floating scooter? According to MTV Snyder snipped out the segways because:
I like that shot where you can see the Owl Ship, and you can pull back and see Karnak in the foreground..I wanted to have geography, for the audience to understand the distances. And also, when they approach Karnak, you can [now] see it as you approach. [Otherwise], it would be difficult for them to fly so far away. It would be some bad flying by the end.
As for losing the cubes, that was disappointing. There was so much attention paid in this movie, perhaps somewhere out there someone can show me a screencap of a bag of Chariots lumped in the corner at Dan's house. It's just one of those fun little quirks I'm sad to see go. But its omission was probably in part to the removal of Detective Steven Fine and Detective Joe Bourquin from the plot. Which leads us to our next cut.
Fine And Bourquin - Blink And You'll Miss 'Em:
Back in October, Snyder shared with us that the two detectives on the hunt for Edward Blakes murderer, who enjoy putting old Dan Dreiberg under pressure, had to be axed almost completely: