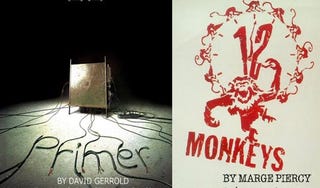 People often talk about which science fiction books would make good movies. But which movies would make for excellent novels? And who should write them, in an ideal world?
Of course, plenty of original movies do get turned into books - but they're usually rushed novelizations, written in a month by someone who's juggling ten other deadlines and adding speech tags to the movie script. If you're lucky, you get a few extra insights into the characters and one or two scenes that the adapter added, or which were cut from the movie before or after filming. Plus, of course, the movies that get their own book adaptations aren't usually ones which could benefit from a really smart dose of storytelling. Movie adaptations of books, meanwhile, are usually disappointing for a whole different set of reasons.
But every now and then, a movie comes along down the pike that actually cries out for a smart, interesting book that brings out the ideas simmering below the surface. Here are ten movies that I'd love to see a really smart book version of, and the authors who would write them in my fondest dreams.
Twelve Monkeys. Cole (Bruce Willis) travels back in time from a plague-ravaged future to try and discover the source of the virus, but he ends up tangling with his own past in unpredictable ways. I was torn between listing this one and director Terry Gilliam's other dystopian epic, Brazil. But of the two movies, I think I'm more desperate to read a really thoughtful novel of Monkeys, preferably written by someone who watched the film with Gilliam a few times. There's so much confusing stuff in this movie, especially Cole's causal loop - is he creating his own dystopian future, or is he simply trapped in the logic of already-existing events? Did the scientists send Cole back on purpose to make sure their plague-ridden timeline "happens," as some have suggested? (In which case, why would they be worried about that, given that it's already happened?)
Who should write it: Marge Piercy, author of Woman On The Edge Of Time. She knows all about time travel, madness and the long reach of dystopia.
The Fountain. Meredith suggested this one - there's already a graphic novel adaptation of Darren Aronofsky's original screenplay, the one he never got to film. But there's no prose novelization of the actual movie, which I found to be a huge let-down despite its sprawling, ambitious plot. Judging from the results of our recent poll, many of you consider The Fountain an underrated masterpiece. Maybe a book could flesh out some of the confusing stuff about the present-day cancer cure and just what's going on with that weird tree-in-space sequence.
Who should write it: I'm going to go with Jonathan Lethem, author of Motherless Brooklyn. He might be able to ground the present day stuff and add some life to those lifeless characters, and when he's channeling Philip K. Dick, he does weird-and-fantastical quite well. Maybe it would all feel epic and personal, the way I think the film was supposed to.