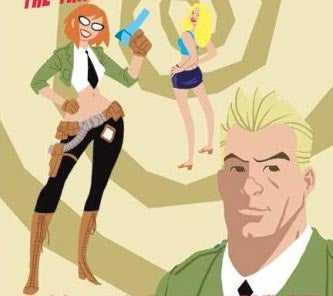 We've been obsessing for months about the lost season finale of world-saving show The Middleman. And now it's finally coming out... as a graphic novel.
If you missed The Middleman, you should definitely check it out when the first season comes out on DVD this July, in time for San Diego Comic Con. It was a fun, snarky show about an upstanding 1950s-style hero with no name, who fights monsters, super-smart gorillas, supervillains and even his own predecessor. He's helped by Wendy, an art student who learns the crucial art of world-saving at his side.
But sadly, the show's first season was only 12 episodes, instead of the planned 13. Creator Javier Grillo-Marxuach, and ABC Family, decided to cut the final episode and invest its budget in the other 12, but Grillo-Marxuach teased us by posting one page from the lostl episode's script a while back.