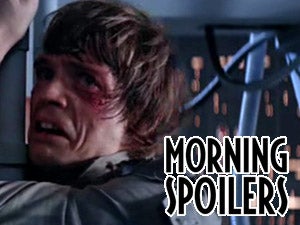 Spoiler invasion! New videos show the contrasting fighting styles of Dr. Manhattan, Chun-Li and Caprica Six. Plus there are revealing pics from Lost, Transformers, Dollhouse and Torchwood, and new scoop on Heroes, Fringe and Dragonball.

Watchmen:
Now that you've seen some actual clips from the movie, here's yet another TV spot. Comedian giggling, giant Dr. Manhattan grabbing someone, and a few other snippets.


Street Fighter: The Legend Of Chun-Li:
Here are some new official images showing more of Kristen Kreuk in action. [Cinemablend]

And here are a whopping five clips:


Transformers: Revenge Of The Fallen:
Here are a couple of new poster images, including a better look at the Fallen. [Transformers Live]

Dragonball: Evolution:
Justin Chatwin says Chow Yun-Fat embodied the character of Roshi with a lot of comedy and is "wacky" in the movie.[DB The Movie]
Woot. Here are a couple of scenes from Friday's episode. Way to state the obvious, President Roslin!



Dollhouse:
Here are some new promo pics from episode three, which I'm guessing is the one where Echo becomes the backup singer for a pop star who's in danger, or who just needs a mentally programmed backup singer. Plus here are a few new poster images. [Dollhouse Fans]

We mentioned the other day that awesome audio producers Big Finish were planning on doing a series of audio stories based on the "lost season" of 1985, when the show was placed on hiatus and a bunch of scripts were scrapped. Now, here are more details. Irish writer Michael Feeney Callan says he had a two-part story called "The Children Of January," featuring a new race of runaway bee people called the Z'ros, who were outcasts from a dawning "parallel universe" civilization that was abandoned. That script may get included in the Big Finish season.