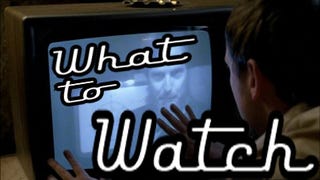 This week Chuck is back and heading to the burbs with a cameo by Jenny McCarthy (whose only emotion is still "sexy"), Battlestar Galactica brings everyone together, and Dollhouse gets round two.
Monday:
There's a Dead Like Memarathon on the Sci Fi Channel, going until 6 PM tonight.
Chuck -
Andy Richter and Jenny McCarthy guest star as a lonely and horny suburban couple in the cul-de-sac where Chuck and Sarah go undercover. Chuck is on NBC at 8 PM.
Chuck Clip:


Chuck Clip:


Kyle XY -
The Tragers are broke (aaaah, a recession themed Kyle XY), and now the doe-eyed test-tube boy must work for mad-science squad Latnok, because he has to do everything around here. Oh and there's a really creepy teens-almost-having-sex scene waiting for you below, ick. Kyle XY is on ABC Family at 9 PM.
Kyle XY Clip


Kyle XY Clip


Kyle XY Clip


Kyle XY Clip


Kyle XY Clip


Heroes -
Hiro and Ando go to India and follow Matt's brain droppings, while Nathan's agents track down all the other super-people. Too....many...subplots...Heroes is on NBC at 9 PM.
Heroes Clip


Heroes Promo


One Way Out -
So if vampires can do it, what about people? A host tries to get out of a coffin on this new Discovery Channel program, One Way Out, at 9 PM.
Tuesday:
No new Fringe this week.
Movies:
Get comfy with Mexican border-tunnel ghosts, on the Sci Fi Channel at 11 PM, in Intermedio.
Wednesday:
Knight Rider -
Mike's favorite barman Sonny is dead. Rip that shirt and cry, cry, cry, Mike. Let it out. "Knight and the City" is on NBC at 8 PM.
Knight Rider Promo


Lost -
I'm happy to report that I totally called the Charlotte happenings last week, so ha. But this week the mainland crew finds out how to get back onto the island (but some people still need convincing). L"316" is on ABC at 9 PM.
Lost Promo


Lost clips:



Wreckreation Nation With Dave Mordal -
After last weeks' homemade Iron Man suit I'm officially tuning into this insane show of tricks gadgets and gizmos on the Discovery Channel at 10 PM.
UFO Hunters -
Why are aliens all such bad drivers? UFO Hunters on the History Channel tries to find out, at 10 PM.
Life On Mars -
Sam has to deal with yet more 70s law dogs breaking the rules, when a councilman is caught with a hooker. LOM is on ABC at 10 PM.
Movies:
Alien Vs. Predator: Requiem is on HBO at 8 PM. Warring races of Aliens and Predators, plus the Turducken-esque Predalien, attack a small town who must band together for survival.