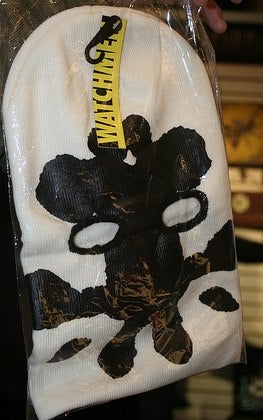 Like a mask-eradicating serial killer, the
wave of Watchmen tie-in crap is already started to surge. At this year's New York Toy Fair, we got a faceful of Watchmen prototypes, from ski masks to coasters.
I don't really know where to begin. I think my personal favorite is the ski mask, because it's just one more thing for an idiot bank robber to get arrested in. But it still won't beat the Dalek kidnapping. I guess the real question here is, what would Alan Moore do if he saw someone walking down the street with a "the end is nigh" baseball hat?