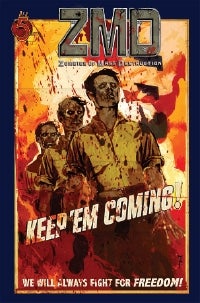 The team behind kickass Vikings vs. aliens flick Outlander, Dirk Blackman and Howard McCain, have been hired to write Zombies of Mass Destruction, a flick about an army of zombies in the Middle East.
Based on a comic book, ZMD sounds appropriately awesome for Blackman and McCain. According to Hollywood Reporter:

The comic, created by Kevin Grevioux ("Underworld"), follows an elite team of soldiers sent on a covert operation into hostile territory in the Middle East to stop what they soon discover to be a government-created army of the undead.
Apparently the zombies are "photosensitive," i.e., vampire-like in their aversion to light (which makes sense given that Grevioux the vampy is involved). They are part of an experimental weapons program developed in the US to destroy the enemy at night, but one gets loose in the Middle East and soldiers have to come in to stop it before it goes all Zombie Strippers on everybody's ass. (If you'll recall, Zombie Strippers is also about a zombie experiment to create soldiers in the Middle East that goes awry.)