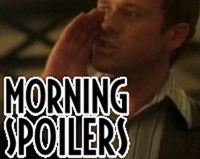 Lots of TV spoilers today - including Anders' fate on Battlestar, Dollhouse details, a Lost forecast and sexy pics from Smallville and Reaper. And a wacky new Dragonball poster. Plus Stargate, Heroes and Fringe.
Someone took a photo of a new poster, which looks sorta spiffy. I like the way Chow Yun-Fat is waving his hand like, "hey man, be cool, okay?" And Lord Piccolo is all like, "Is it high? Is it low? You're too slow." [DB The Movie]

The Canadian trailer for Friday's new episode includes a teeny bit more of Ellen's resurrection. Does "I'd do it all again" mean, literally, that she's going to do it all again? In the next six episodes? Also, looks like that gunshot wound was the best thing that could have happened to Anders. [Battlestar Blog]


Adama is going to keep falling apart, but it's through the cracks that you're going to see the light, says Edward James Olmos. Huh? [TV Guide]
Dollhouse:
What happens when Echo, the mindwiped slave, starts to remember stuff? Says Joss Whedon:

Oh, all heck breaks loose. The arc of the show is really her not remembering so much as becoming self-aware, knowing things in a more complex way than she should, knowing that she exists and eventually knowing that she used to be different than she is now. We as an audience are searching for her identity, but she is more searching for the concept of identity, at first.
And who will Echo be programmed to be?

She's going to be a rich older woman who has died, she's going to be a blind cult member, she's going to be a dominatrix, she's going to be a backup singer for a pop star, she's going to be a safecracker, she's going to be a somebody's wife.
Lost:
The Losties will all (or mostly) be back on the island by episode 12. In that episode, Sawyer freaks out over someone who's bleeding a lot. Miles is wigging out over the collapse of the space-time continuum. Dude. Also, on Feb. 11, the nosebleeds and time-traveling sickness take a "deadly turn." (Which I think means don't get too attached to Charlotte.) And on Feb. 25, we find out how Locke got off the island and wound up in that coffin. Once Jack gets back to the island, he stops being such a whiny git. Also, reading between the lines, it sounds like not all of the Oceanic Six make it back. (Like, maybe not Sun. Also, has Sayid been spotted on the island yet?) [EW]
In episode 5x11, "Whatever Happened, Happened," Sebastian Siegel will play Erik. [SpoilersLost]
Jin gets to interact with a bunch of characters he's never really rubbed shoulders with, says actor Daniel Dae Kim. And there's a "very interesting romantic pairing" coming up, involving Jack, Kate or Sawyer, say producers Lindelof and Cuse. [TV Guide]
Terminator: The Sarah Connor Chronicles:
We mentioned a while ago that John Henry - which is the artificial intelligence personified by Garret Dillahunt, who used to be the Terminator known as Beastwizard - would escape from his little basement room and go walkabout. Now, Dillahunt has a few new details about what happens: