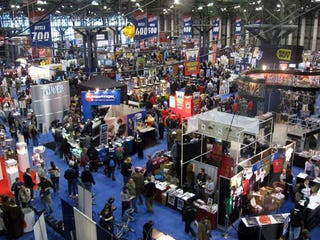 The greatest, and most offensive, paradox of all time is: What happens if a unicorn takes a maiden's virginity? But the next-greatest paradox has to do with New York Comic Con and its ilk.
And it is this: Why is an event that should be a celebration of the future and the imagination so old-fashioned and same ol', same ol'?
Don't get me wrong — when Meredith said she'd give me a ticket if I could cover a screening this weekend, I was thrilled and delighted, and I had a good time. And I appreciate that some of what does drive me nuts about Comic Con has everything to do with me and nothing to do with it: I burned out on festival concerts at least half a decade ago, strip clubs discomfit me unless I'm pretty intoxicated, and while I am a capitalist, the Mall of America makes me feel guilty about it. And with its crowds and $4 bottles of soda, paid models and attendees in slinky costumes getting ogled by grubby dudes, and yards upon yards of questionably utile merchandise, your average SF con replicates all three of those places rather aptly.