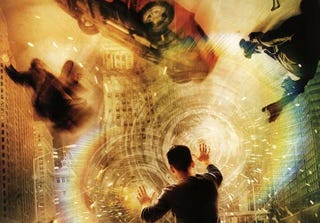 Push, opening today, is a crash course in how to do a cheerfully nonsensical action-adventure fantasy without winking at the audience or getting too cute. It feels revolutionary because it's so old-school. Mild spoilers.
In Push, Chris Evans (Fantastic Four) plays Nick, a ne'er-do-well telekinetic "Mover" hiding out from a secret government agency called Division. He meets the young clairvoyant Cassie (Dakota Fanning) who convinces him to help find a mysterious girl and her case, which are the key to stopping Division's evil schemes. There's just one catch: Cassie can see the future, and in the current timeline, both she and Nick die.

When I interviewed director Paul McGuigan (Lucky Number Slevin) about this new film, he talked about the "realism" he brought to this tale of psychics fighting against the government. You'll be happy to know that Push, at no time, feels like a work of realism. What it does have, however, is a determination to take its premise and its characters seriously at all times.