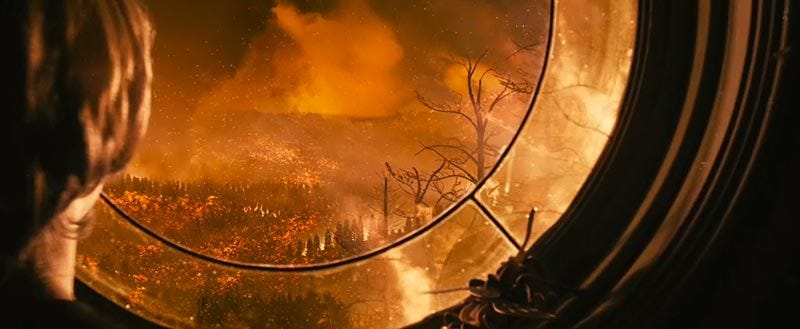 Nicolas Cage's apocalyptic movie Knowing brings a lot of surprises, says director Alex Proyas. He explained to us how he crafted a widescreen action-adventure, with a spooky family drama at its core. Spoilers below...
In Knowing, Nicolas Cage plays a professor whose son digs up a time capsule that was buried at his elementary school in 1959. The capsule contains a sheet of paper full of numbers, which appear to be purely random. But Cage deduces that each number refers to a major disaster, including the date and the number of people killed. And he begins to suspect that he and his son have an important role to play in the apocalypse, which is coming soon.
Knowing opens March 20, and a couple of the film's biggest disaster set-pieces will be shown off at New York Comic-Con.
We're attracted to stories where little details and clues turn out to be the key to everything, says Proyas. "The devil's in the details." He says he was intrigued by the film's basic premise, that someone could have buried information "like a message in a bottle," years and years ago, with a code that predicts disasters with total accuracy. "It feels like an urban myth," and has an immediate appeal, he says. "It touches on something in our psyche that resonates in some way. It feels true." And it feels instinctively creepy, even when you hear just the bare-bones summary. "That's certainly the way the film functions in the first third to a half," before it takes a sharp turn in another direction, says Proyas.
The movie's latest trailer hints at a much broader picture, with some spooky scenes of scary white men in the forest (referred to as the "whispering ones,") and some scary apocalyptic moments as well. Even though his film features Nic Cage unraveling clues and trying to figure out secrets from the past, Proyas said it's the "absolute polar opposite" of Cage's National Treasure movies. (He adds that he's enjoyed those films, but his couldn't be more different.)