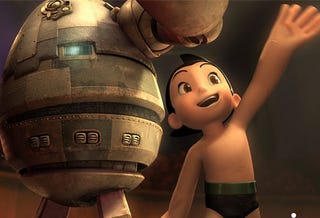 Rumors are tearing up the web that Imagi's CG animated Astro Boy movie has stopped production. But don't start a robo-gladiator stampede. We talked to Imagi U.S. president Erin Corbett, who set the record straight.
Astro Boy is the story of a scientist who creates a robot kid to replace his dead son. But the robot kid can't fulfill the grieving father's expectations, so he journeys off in search of acceptance, entering a netherworld of betrayal and robot gladiators. Eventually, he returns home to save the father who rejected him. The film stars the vocal talent of Freddie Highmore, Nicholas Cage, Eugene Levy, Bill Nighy, Donald Sutherland and Kristen Bell.

Earlier today, Slashfilm reported that Astro Boy had shut down production. There have been reports for a while that Imagi was having financial difficulties — in December, auditors Deloitte Touche Tohmatsu cast doubt on Imagi's financial resources going forward.