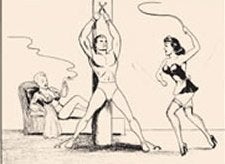 Caught up reenacting your Superman bondage fetish? Don't worry, we got the best of the week right here. Highlights include evil twins, a NSFW interview with Forbidden Science's creator, and Terminator details.
Man Of Steel, Woman Of Bondage? [NSFW]
It's not looking good for the Man of Steel. Just days after we revealed his racist past comes news of a book that unveils his sordid fetish life, as chronicled by his creator. NSFW pics.