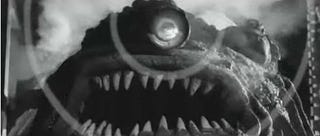 Sometimes, we have to stop and applaud the truly innovative directors whose work only shows up for a few brief seconds crammed on the TV. Vesa Manninen's collection is worth stopping to see the commercials.
Commercials have become such a depressing mix of skinny people bounding around to catchy music that it's been months since I've actually sat through a commercial break, what with Tivo and DVR allowing me the freedom of fast forwarding. But then there are those little moments of true exciting ingenuity that makes us stop and yell out "Wait, rewind!" Vesa Manninen's commercial work is one of those little gems in a plethora of exhausting Pepsi ads. I caught his Swedish Battery Collection Project homage to black and white monster flick of yore (strings attached) and I was immediately hooked. So just for fun, let's check out what happens when you let someone with a passion for creating thing on the screen that look, sound and feel unique direct a commercial.
Swedish Battery Collection Project

VR (Finnish Railways, Congress

Head inside your head, Juicy Fruit DIRECTORS CUT

Next up is the highly anticipated trailer for 1, which is inspired by Stanislaw Lem's One Human Minute. A bookstore uncovers a novel that details what happens to all of humanity in one single minute. Unfortunately, we could only find this version, but we promise to keep our eyes peeled for a English-subtitled or voiceover version soon.