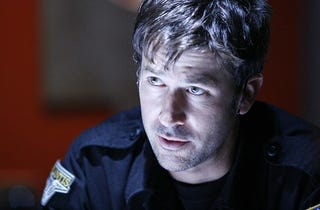 Last night was the final Stargate Atlantis episode and we sat through, box of keelnex in hand, ready for the long goodbye. So long, SGA... and thanks for all the nonsensical space jargon, spoilers.
Todd the Wraith is back, bringing a plot point with him. Turns out Todd is a crappy leader and his crew turned on him, but not without leaving him valuable knowledge of a Super Wraith Hiveship with a ZPM (If you're wondering, "ZPM" basically means "indestructible"). Also, turns out the bad guys also have the Super Secret Wraith Code that punched through the fabric of space in last week's CSI Stargate episode (which I loved). So, the Wraith baddies now have a Hive that's headed straight to Earth that no one can beat. Todd is moved to the brig and pretty much forgotten: Thanks for the help, Todd, now go away while we use your valuable information to create a show around.
But back to the task at hand: bad Wraiths headed to Earth. Time to call Amanda Tapping and other past SG-1ers. Tapping dons the old Samantha Carter wig and delivers a heart-felt tip of the hat to Stargate cast member Don S. Davis (General Hammond) who passed away last year, and she explains that top Stargate brass renamed the Phoenix the General Hammond. It was a truly nice moment, and I'm glad the producers saw it fit to memorialize this actor who was an important part of the franchise. And then Dr. Peter Kavanagh pops his head in so that McKay can flair his nostrils and come close, so close, to having a funny moment. But it passes.

Atlantis has to high tail it over to Earth to protect our home planet, and Sheppard powers up a ship to fight Wraith in the air over on Earth. Quality time is wasted with science jargon and McKay discovers that their Stargate will take them into the super-bad Wraith ship, which means the others will have to actually fight.
Woolsey takes Teyla and Ronon aside and tells them that this is the last call if they want to bail. Of course, they say hells no and adorable Woolsey smiles. This isn't really a super important moment in the grand scheme of this episode, but it did demonstrate (in a very heavy-handed Stargate way) how far Woolsey has come as a character. Robert Picardo, you are a gentleman and a scholar, and you made Woolsey's climb from by-the-book boss to accepted member of the crew enjoyable... if not believable. Thank you for joining the cast and bringing your own touch of elegance to the Pegasus galaxy.
So together, guns ablazin', the crew (minus Sheppard, 'cause he's on Earth, but with one possibly gay Lorne) sets upon destroying the evil Wraith ship via Stargate. More fighting and finally something happens! Ronon gets shot and has a heavy breathing death scene. "Holy crap!" I cried, a plot point that has some sort of weight upon the characters. This is sad and unfortunate, but it's war and war is hell. Sometimes people have to die to save an entire planet. Goodbye Ronon, you were a warrior and deserved to go out in the thick of battle, Jesus Christ, is he getting healed? WHAT?!? HE'S STILL ALIVE! WHY, WHY, Why, why... Oh wait, it's Stargate. I forgot.