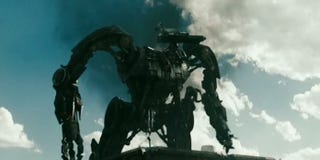 Is this the greatest time to be a fan of science fiction movies? No fewer than 30 SF films are hitting theaters, and at least a dozen could be great. Here's our 2009 movie forecast.
Note: As always, this includes a few fantasy movies that are set in the present day, involve technology, or feature an urban setting. Feel free to let us know what we missed!
January:
Outlander (Jan. 23)

What's it about? An alien (Jim Caviezel) crashlands in the middle ages, and has to rally a bunch of Viking warriors to fight an escaped alien monster. Dude.

Early indications: The long, long delay in its U.S. release may not be the best sign for this film, or it may just mean the Weinsteins don't know what they have on their hands. Early reviews have been sort of lukewarm. Clips look fun and cheesy, mostly in a good way. My guess is, it's either a fun ride, or it's this year's Doomsday. Either way, I'll be there on opening day.