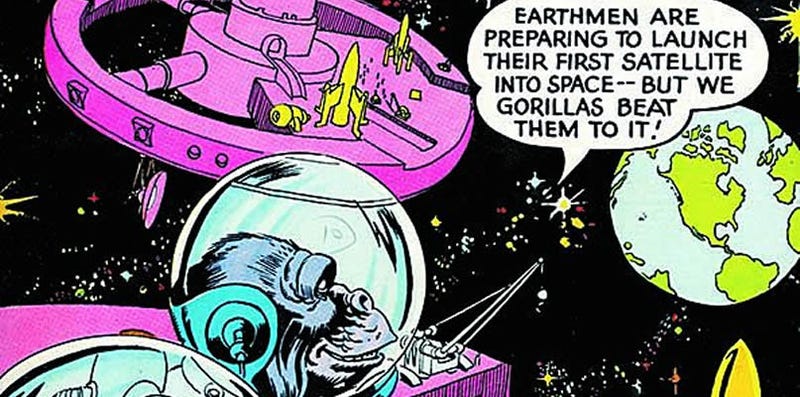 Science fiction monkeys. Sure, this week may bring all manner of collections of more recent comics, but let's face it: Nothing measures up to science fiction monkeys. Of course, these are new comics we crave.
The best part about the appeal of SF monkeys is that they pop up in two different books this week. But before we get to those, who don't I tell you about the other books you might want to pick up in order to come down safely afterwards? DC Comics is starting their Faces of Evil branding with Faces of Evil: Grundy, which follows Solomon, the Florida swampland's own undead supervillain, as he prepares for a new series starting later this year. Not to be undone, Marvel launch Spider-Man: Fear Itself, in which ol' webhead comes face to face with Man-Thing, Marvel's version of Swamp Thing who... lives in the Florida swampland. What are the odds?
Less likely to find strange parallels, DC's DC Universe Illustrated By Neal Adams is the first of three hardcovers collecting all of the popular artist's DC work throughout the years that doesn't feature Batman, Green Lantern or Deadman (because all of that stuff has been hardcovered already). On the more recent front, Marvel's Secret Invasion finds itself in paperback form even as its spin-off, Secret Invasion: War Of Kings gets started in a one-off special issue. When it comes to hardcovers, Marvel is doing their best to own that market this week, with Fantastic Four: World's Greatest (the first storyline from Kick-Ass and Wanted's Mark Millar), Spider-Man: Blue (from Heroes' Jeph Loeb and Tim Sale), Ultimate Origins and Universal War One all getting released in the format. They're also putting out a hardcover collection of the first issues from the third series of Runaways, but without creator Brian K. Vaughan writing... Well, it's not as fun anymore, to be honest.
Novelties of the week are the first collection of Rasl, the new SF series from Jeff Smith, creator of the awesome indie comic Bone, as well as the American release of the 2009 Doctor Who Storybook, which I recommended as a Christmas gift last month when it was available on import. But as great as both of those are, neither of them feature science fiction monkeys... unlike these two books: