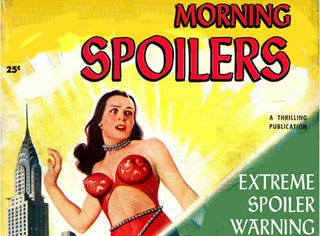 At io9, we don't do gossip — Quinto snorts coke? We don't care, unless it's full of nano-bots! — instead, we do spoilers. Here are the greatest, and most incorrect, spoilers we've posted this year.
We honestly didn't expect the "morning spoilers" feature to be as popular as it's been. We came up with it as a way to do a daily news roundup with a more interesting spin than just "Daily News Roundup." And it was also a way to avoid having too many headlines about "what's next on Heroes" on the front page of the blog. But we're stoked that people have seemed to enjoy the thrill of forbidden knowledge.
The Biggest Spoilers Of 2008:
Batman Takes The Blame For Harvey Dent's Crimes. We reported a pretty accurate synopsis of The Dark Knight last January, but even we thought it was fake. We also had pics of Nurse Joker visiting Harvey Dent in the hospital, before the movie came out. And we had a report that a scene featuring the Joker in a bodybag might be cut from the movie.