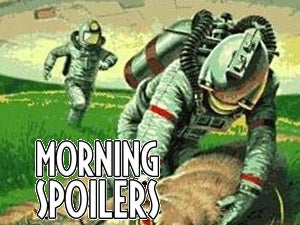 A new Dollhouse script review includes the secret origin of Eliza Dushku's Echo. There's an episode-by-episode breakdown of Heroes volume four. A new Battlestar clip shows Adama's tribulations, and Doctor Who rumor-mongering continues. Spoilers rule!


Terminator Salvation:
The new movie happens in 2018, after the bombs have gone off, but never specifies exactly when Judgment Day happened, to avoid tangly timeline issues. The film does make an effort to respect the earlier movies' timeline, says McG. [Star-ECentral]
Dollhouse:
A new review of the Joss Whedon show's replacement pilot, "Ghost," includes some details I haven't seen before. In this version, we actually meet Eliza Dushku's character before she becomes a mind-wiped puppet. When we first meet Dushku, she's playing Caroline, a girl who's gotten herself into a tough spot. She winds up at the Dollhouse, where Adelle DeWitt offers her a five-year contract, and promises the organization is there to help people. The next time we see Caroline, she's having the time of her life dancing with a man she met three days earlier. But then she goes back to the Dollhouse and all knowledge of that encounter is erased from her mind. Now she's an "Active" known as "Echo." And as we mentioned in our review of a partial copy of the script, most of the episode's plot involves Echo serving as a hostage negotiator for a Mexican businessman, Gabriel, whose daughter has just been kidnapped.