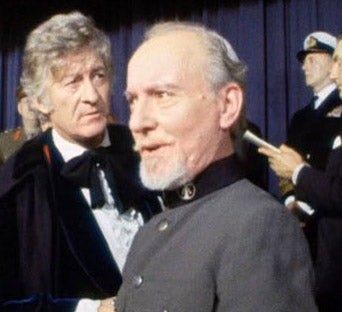 It never fails: an alien comes to Earth to study us, or spy on us, or hide from other aliens. And he/she always goes native. Just once, I'd like to see an unassimilated alien.
You might have noticed this trope in the recent Day The Earth Stood Still meh-fest, when Keanu/Klaatu goes to the McDonald's to hang out with a fellow alien, who's been hiding out here for decades trying to decide whether we suck or blow. And doggone it, the old guy has totally lost his alien perspective. He loves McDonald's, for one thing. For another, he's seen enough movies to pick up that thing where he speaks a foreign language, until he's saying something really important — and then he switches to English.
Okay, sure, he still recommends that Klaatu sterilize the Earth. But he also encourages Klaatu to try those crispy apple pies first.
But he's not the worst sell-out. The worst is the Doctor from Doctor Who, who's totally gone human the first time we see him, in 1963's "An Unearthly Child." He's ditched his Gallifreyan tunic, with the attractive posture collar, for some pastiche of an English gentleman outfit. (I totally blame the lack of the collar for William Hartnell's bad posture.) But the worst comes in the early 1970s, when the Doctor spends a few years stuck on Earth and starts actually driving a car and eating at Wimpy's Burgers. (In the novelization of "Invasion Of The Dinosaurs." I think.) Did you ever eat a Wimpy Burger? They're a great example of truth in advertising.
Commenter Hamslicer points out that I somehow missed the aliens in Third Rock From The Sun, who get so assimilated they not only eat our junk food, they also get obsessed with our human innovations, like shampoo and conditioner in the same bottle.