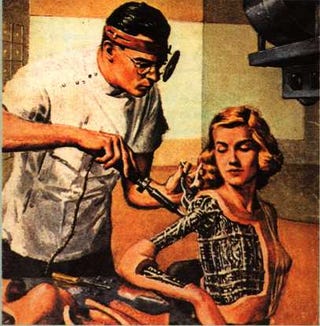 It's a truism in adult science fiction that humans of the future will have sex with robots. But can a robot really consent to have sex when it's been programmed?
Under the law, the difference between an act of sex and an act of assault hinges on one idea: consent. If a person agrees to have sex with you, you're having sex. If they don't agree, or actively disagree, it's a crime. Obviously there are gray areas, and that's why rape trials exist - in the best cases, such trials are intended to determine whether consent was given.
But what about robots? Do you think the blondie bot in Cherry 2000 was really capable of giving consent to have sex with her human boyfriend? Or did her programming simply force her to always have sex, whether she wanted to or not? And what about the Romeo Droid in Circuitry Man, or the Sex Mecha in AI, who live entirely to sexually please women, even when those women are abusing them or putting them in danger?