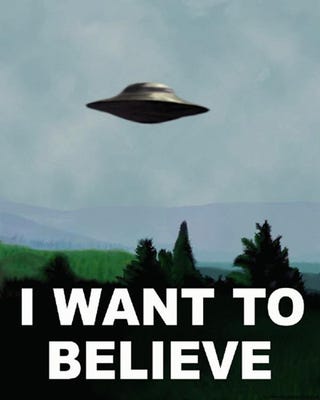 In a bid to avoid being pigeonholed as a nerd icon, David Duchovny claimed he never thought The X-Files was science fiction — then blamed The Dark Knight for The X-Files 2's lackluster gross.
Maybe that pigeonhole is bigger than we thought. Duchovny commented in a recent interview with Sci Fi Wire:
I never thought of The X-Files as science fiction. I always thought of it as playing this character in this world. The world was recognizable to me. It wasn't The Jetsons. It was present time. You couldn't fly. You couldn't transport our bodies over a teleport and all that stuff, so it was the real world, and it didn't feel like sci-fi to me.
Point taken — but, uh, remember your UFO poster? That room full of bug-eyed green fetuses? The computer that developed free will? (Not to mention the abducted sister, the abducted partner, the alien worm virus, the malevolent slime, the supernaturally strong clones ....) That's science fiction, buddy. And there ain't no shame in it.
We've gotten into trouble before playing genre-labeling games, but in the spirit of Michael Chabon, it must be said: Science fiction is, indeed, just good storytelling, with far-out ideas that are backed by what we know of the universe so far — and it spurs us forward to discover more. As Duchovny put it later in the interview, The Dark Knight suffocated theaters this summer (and is now suffocating joyful DVD and Blu-Ray players everywhere); there's a reason for that. Science fiction is for everybody, and it's here to stay.