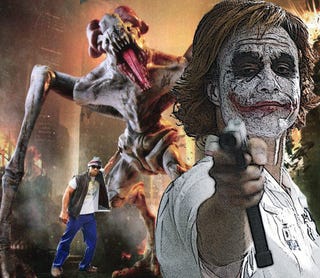 Science fiction didn't conquer the media world in 2008 all on its own: A host of creative people helped power the mighty battlecruiser. Here's our list of the 20 biggest science fiction movers-and-shakers of 2008.
1. J.J. Abrams, Roberto Orci, Alex Kurtzman and Damon Lindelof. These four guys, between them, pretty much created half the most influential works in the genre right now. On television, Abrams and Lindelof's Lost has shown how to make science fiction into watercooler-talk material. Abrams, Orci and Kurtzman's new show, Fringe, has only been on for a few months but feels like a genre classic already. Abrams is also responsible for the ground-breaking (and camera-shaking) Cloverfield.
Up next: The foursome is responsible for bringing Star Trek back from franchise purgatory. And Orci and Kurtzman have co-written Transformers 2.
2. Will Smith, star of I Am Legend and Hancock. It's hard to think of an actor who can make a project into a hit more easily than Smith, right now. Just imagine Hancock without Smith's legendary affability behind it, and you've got a mighty dud.
Up next: Sequels/prequels to both Hancock and Legend are being bandied about.
3. Jeff Robinov, president of Warner Bros. He championed the idea of giving indie director Chris Nolan the reigns of the Batman films. He's been a key figure in getting movies like Watchmen on the screen. (And he killed the Wonder Woman movie, reportedly because he doesn't think women can carry action movies. But this is the "power list," not the "people we agree with" list.)
Up next: He's in charge of the umpteenth big-screen reinvention of Superman.
4. James Cameron, director of Avatar. Cameron's 3-D space epic won't be out for another year, but it's already revolutionizing the way people think about movies. He's pioneered a whole new system of 3-D cameras, but also created new motion-capture techniques for his alien creatures. Even before the film comes out, everybody else is already playing catch-up. Meanwhile, Cameron discovered Sam Worthington, who stars in Avatar, and pimped him out as one of the leads in Terminator 4.
Up next: Avatar comes out next December.
5. Kevin Feige, President of Marvel Studios. Warner Bros. may have cornered the market on superheroes-as-serious-dramas, but Marvel owns the idea of a superhero movie universe, complete with crossovers and fan-friendly in-jokes. Between them, Iron Man and Incredible Hulk proved that the superhero punch-'em-up films can feel like pieces of a saga... and make tons of money.
Up next: Another Iron Man, plus Captain America, Avengers, Thor, Ant-Man...
6. Kanye West, rapper/singer. He helped bring a science fiction motif back to music with his Daft Punk collaborations and space-odyssey stage show. He's the reason for Beyonce's cyborg hand.
Up next: His new album, "808s and Heartbreaks," uses an "Autotune" to make his vocals sound more computery and spacey, and it's already the #1 record in the United States.