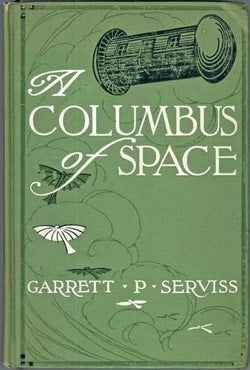 Click to viewSome of the most gorgeous, evocative, and strange science fiction art you've ever seen comes from the covers of novels written between 1904-33, in SF's "pre-Golden Age."
Readers, here is the long-awaited second installment in my Pre-Golden Age SF series. I can't afford first editions of PGA SF novels, but I've managed to collect images of their dustjackets and "boards" (as bookbinders call the paper- or cloth-covered stiff cardboard forming a book's covers). The following 10 SF novels boast the most thrilling and evocative cover (board or dustjacket) illustrations and design from 1904-33.
I invite your criticisms; please note, though, that this is a survey of PGA SF first editions. Later Edgar Rice Burroughs paperbacks don't count.
Pre-Golden Age SF's Top Ten Book Covers
1. Norman Matson's Doctor Fogg (New York: The Macmillan Company, 1929). A shy and retiring Chicago scientist manages to communicate with an advanced alien civilization, whose scientific secrets he refuses to share with Earth's flawed political powers; and he accidentally "broadcasts" a gorgeous naked blonde alien with whom he falls in love. What does the fun dustjacket illustration have to do with it? Nothing! But I love the speeding meteors, which converge cozily at the center of the image; the void of space absolutely chock-full of stars and planets; the awkwardness of the gentleman at top right compared with the insouciance of the woman beneath. I also admire the crimson-orange/navy blue/silver color scheme. Making the characters' hair, the men's neckties, the woman's dress the same color as the slightly italicized title? An inspired decision. NB: The board illustration is also super-cool: it's a silver planetoid with the words "Doctor Fogg" inside.
2. Karel Čapek's Krakatit (London: Geoffrey Bles, 1925). An English translation of the Czech author's 1924 novel. A scientist discovers the most powerful explosive ever, but he refuses to share it with (see above) Earth's flawed political powers. The Art Deco jacket design captures both the excitement and terror of such a discovery. The stylish typeface says, "Not to worry, the future is awesome!" But K. Romney Towndrow's artwork - an explosion rending the very planet in half - says, "Yes, worry." Still, this is a satire, so we're not encouraged to take things too seriously; the illustration kinda reminds us of limelights in a canyon of skyscrapers. It's as though we were approaching a 1925 Hollywood movie opening, perhaps Marion Fairfax's The Lost World. Fun facts: The book was adapted as a 1947 movie (d. Otakar Vávra) and a 1960 opera (Václav Kašlík); both are supposed to be tremendous. The 1925 US edition of Krakatit has a more restrained, but still fun, jacket.
3. Edgar Rice Burroughs's A Princess of Mars (Chicago: A. C. McClurg & Co., 1917). I'm not impressed with the original book jacket illustrations for Burroughs's Barsoom series. Sure, they feature lone heroes confronting hordes of alien warriors, not to mention half-naked damsels menaced by multi-limbed aliens, but... Frank Frazetta's later work on the same titles demonstrates just how tame the original jacket illustrations were. They make the swords-and-sandals-in-space genre feel middlebrow and uplifting, which is precisely what we hi-lobrows do not enjoy. Peel away the Barsoomian jackets, though, and you'll often find more compelling boards underneath. A Princess of Mars was Burroughs's first published story - it was serialized in 1912, under a pseudonym - and everything great about his writing is captured here. That Arts & Crafts typeface, so pseudo-medieval and chivalrous! That red planet, so mysterious and alluring! Stop the world, Edgar, I want to get off.
4. L. Frank Baum's Tik-Tok of Oz (Reilly & Britton, Chicago, 1914). Illustrated - like 39 of the 40 canonical Oz editions - by John R. Neill, Baum's picaresque concerns the efforts of the Shaggy Man (a proto-hippie who disdains all possessions except his Love Magnet) to rescue his brother from the Nome King. Tik-Tok, a copper-bodied clockwork man, first appeared in Ozma of Oz (1907), then starred in a 1913 stage musical. In this book, despite Neill's sweet, startling dustjacket illustration, Tik-Tok is (as ever) an emotionless though fiercely loyal servant. Exactly like Karel Čapek's flesh-and-blood "robots." Fun fact: Though often described as the first robot to appear in modern literature (if you don't count living-metal creatures, like the golden maidservants who attend Hephaestus in The Iliad, that is), Tik-Tok was preceded by Edward S. Ellis's Steam Man of the Prairies in 1868.