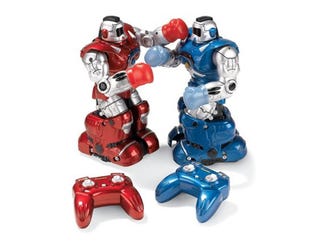 It's the holiday season, and that can only mean one thing: You need to buy toys.
Even if you don't know any children, it's a fair bet to say that you've at least been tempted to spend some money on an action figure or two, even for yourself. Whatever the reason, we're saying that it's definitely the time of year for toys for all girls and boys - and here are some picks that we hope you find in your stocking on the day.
Star Wars - The Ultimate Lightsaber Kit: Yeah, yeah; you could play that Wii lightsaber game and have a lot of fun, but those of us with the bigger midichlorians know that building your own lightsaber is where it's at. This kit lets you do that very thing, providing all the pieces that you need to become your own padawan. Just try not to slice your own hand off in some Joseph Campbell-esque maneuver whether by accident or in a misguided attempt to emulate your childhood idols.