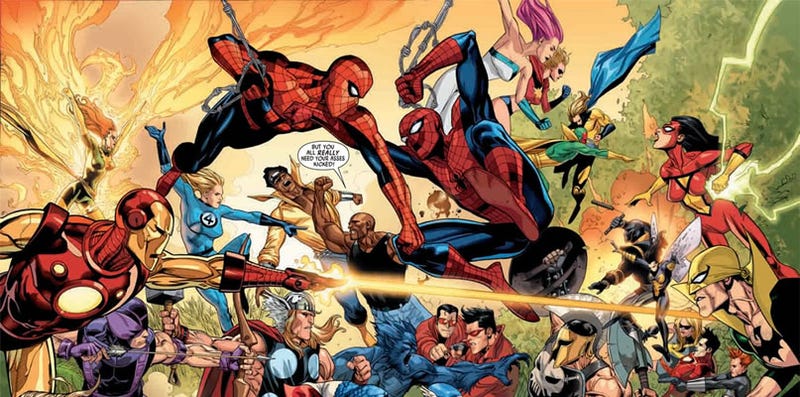 Despite telling readers to "embrace change," Marvel's Secret Invasion only offered changes that are cosmetic and temporary. With the final part of the big comic event hitting stores this past week, we look at why this latest alien invasion disappointed, and was ultimately all about the status quo.
It was Marvel Comics creator Stan Lee who (aprochryphally) told his creators that Marvel Comics didn't give its fans change but the "illusion of change," something that today's Marvel is taking to heart. Here's editor in chief Joe Quesada talking about their universe post-Secret Invasion:
I'd say less "dangerous," more "unpredictable." At least I hope that's what I've been saying! It is a more dangerous place, because Osborn's in charge. But the truth of the matter is, we wanted it to be more unpredictable. Being unpredictable, I believe, leads to better storytelling. It's not clichéd storytelling. Again, we get or characters in a place that readers don't necessarily expect, get their backs against a wall, and see what happens. Look, at the end of the day, I think that's what leads to great storytelling—put your characters in a place that readers never saw coming.
Sounds exciting, right? After all, who doesn't want unpredictable stories and better storytelling? Only problem is, there was very little unpredictable about Secret Invasion; everything you'd expect to happen happened - including the "shocking death" of a beloved character and last minute reveal of a new status quo. For those unfamiliar with the series, Secret Invasion was a summer series of comics (a lot of comics) that acted as the culmination of five years of planning by Marvel's de facto head writer Brian Michael Bendis; familiar characters had been removed over the last five years and replaced by aliens, and now everything was coming to a head as the aliens declared war on Earth. To the surprise of no-one, the aliens lost; to the surprise of some, the status quo was pretty much reset at the end of the story to what it had been before.