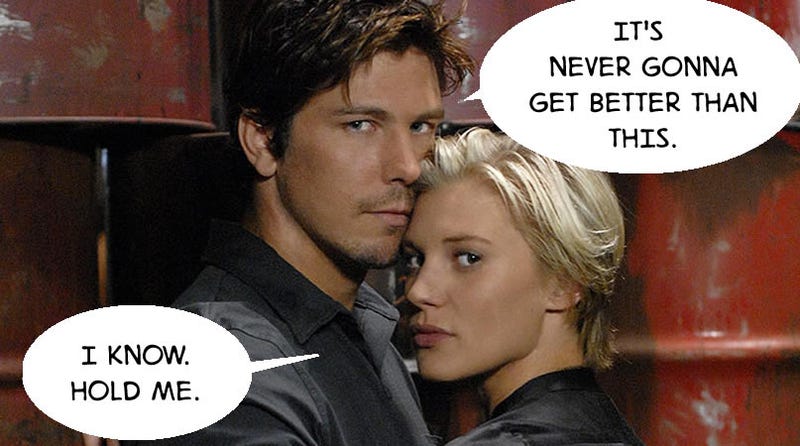 The announcement that Battlestar Galactica 's Michael Trucco's first post-BSG television appearance will be as a guest-star on CBS' The Big Bang Theory came just a little too soon after the news that Tricia "Six" Helfer will be making a guest-shot on NBC's Chuck . We're wondering: Why aren't these people appearing on good shows?Perhaps it's just as simple as wanting a break after making one of the best television series to grace our screens. It's not just Trucco and Helfer who seem to be having this problem. Even Starbuck herself, Katee Sackhoff - whose Sarah Corvus was maybe the one good thing about the Bionic Woman revamp - seems to have landed herself in a generic crime drama following the end of Galactica . She'll be playing the lead in NBC's Lost And Found , which the Hollywood Reporter describes thusly :
"Lost & Found," from Wolf Films and UMS, centers on Tessa (Katee Sackhoff), an offbeat LAPD detective who, after butting heads with the higher-ups, is sent as a punishment to the basement to work on John and Jane Doe cases.
Um... great? Maybe she's competing with Jamie Bamber for who can carry the shittiest crime show; he's jumping from deep space back to his native United Kingdom for
Law And Order: London
, which we can fully expect will be unwatchable (despite the presence of Freema Agyeman), thanks to the showrunning presence of
Torchwood
's Chris Chibnall. At least James Callis is going into another genre with the entirely unpromising-sounding
Merlin And The Book Of Beasts
(which also stars... well,
no-one that you've ever heard of
). True, the problem doesn't seem to have afflicted everyone - Aaron Douglas appears in the remake of
The Day The Earth Stood Still
, which at least has the potential to be good, depending on how you feel about Keanu - but still; what's going on? Are the cast deciding to slum it for awhile, hoping to make some crappy movies for the money while coasting on
Galactica
's good name for awhile, or are they just not getting good opportunities from an industry afraid that they'll make whatever they turn up in into a paranoid, depressing yet addictive thriller about the apocalyptic end of the human race that is, ultimately by our own hands? The person I feel most sorry for, I have to admit, is Tahmoh Penikett. He must've thought that he'd avoided any potential curse by jumping from
BSG
to Joss Whedon's
Dollhouse
, only to see that series become plagued by numerous problems, rewrites, reshoots and rumors of quick cancellation. Before too long, he too will long for the easy opportunity of showing up in a generic role during an episode of
Knight Rider
.
Casting Scoops [EW.com]