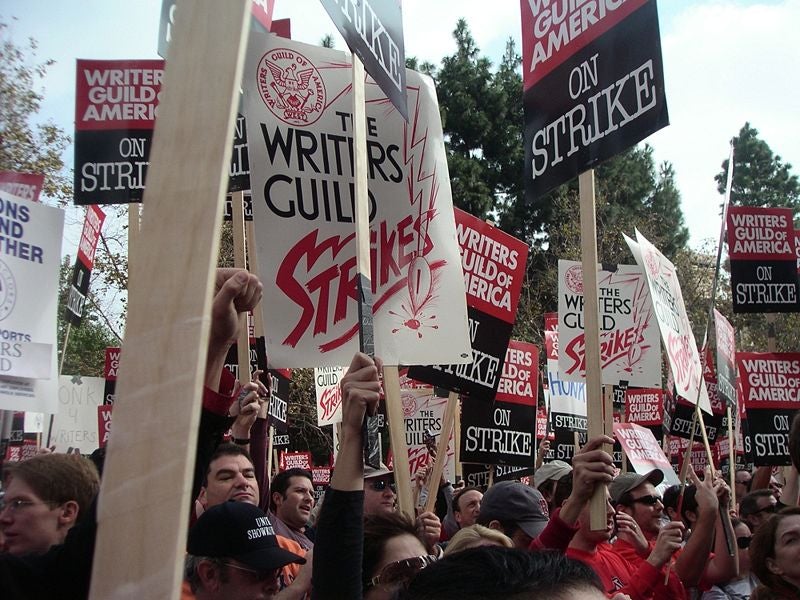 Here we go again. After last year's 14-week struggle between the Writers Guilds of America and the Alliance of Motion Picture and Television Producers — one that ultimately caused the untimely death of Pushing Daisies and the unravelling of Heroes , among other disasters — it looks like Hollywood is still far from happy. Yesterday, the Screen Actors Guild announced its intention to "launch a full-scale education campaign in support of a strike authorization referendum." What that means is, well, nothing good.SAG members have in fact been working under the terms of an expired contract since June, when the AMPTP made them a "final offer" they didn't accept. A federal mediator stepped in, attempting to repair the damage and restart talks for a new contract, but yesterday's announcement represents the failure of that plan. According to the SAG statement , discussions reached a breaking point at 1:00 a.m. on Saturday, so it's a pretty good bet that tensions were high.
Management continues to insist on terms we cannot responsibly accept on behalf of our members. As previously authorized by the National Board of Directors, we will now launch a full-scale education campaign in support of a strike authorization referendum. We will further inform SAG members about the core, critical issues unique to actors that remain in dispute. We have already made difficult decisions and sacrifices in an attempt to reach agreement. Now it's time for SAG members to stand united and empower the national negotiating committee to bargain with the strength of a possible work stoppage behind them.
In the current weakened economy, "the strength of a possible work stoppage" certainly carries with it no small amount of dread. To approve a strike, SAG will need a yes vote from 75 percent of its 120,000 members, and it's anyone's guess how that will go. Once again, the dispute is payment and union coverage for internet broadcasts of shows; SAG is seeking a better deal than the so-so ones garnered by the WGA and other Hollywood unions, but the AMPTP won't budge. Though SAG has not yet revealed when they will be sending out strike authorization ballots, it's clear that we are steamrollering toward that point. It doesn't seem like anybody is looking forward to a repeat of the writers' strike, or the Hundred Days of Sadness that had me watching
Daily Show
reruns. Then again, some good did come out of the writers' strike as far as the viewing public is concerned: Without the buildup of Joss Whedon's frustrated creative energy, we wouldn't have
Dr. Horrible's Sing-Along Blog
. To be honest, though, I'd rather have
Dollhouse
— and a full slate of other new movies and TV besides, with crews
and
casts being paid what they deserve.
Hollywood actors guild to seek strike
[via MSNBC, Associated Press]
Important Message Regarding Mediation
[Screen Actors Guild]