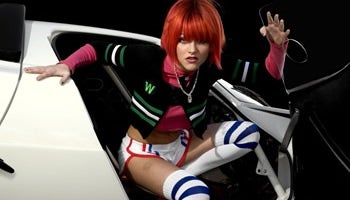 Bad news for fans of Phoo Action , the British television show based on Tank Girl and Gorillaz co-creator Jamie Hewlett's futuristic kung-fu Buddhist crimefighting comic strip Get The Freebies . The BBC have pulled the plug on a fully fledged series based on the pilot, just days before shooting was due to begin. Why did the action-comedy fall down so close to the starting line?A BBC spokesperson explained to the British Guardian newspaper:
During the course of pre-production it became clear that creatively Phoo Action was struggling to fulfil its ambitions as a television drama so the decision was taken to cancel it. BBC3 is still very interested in Phoo Action as a concept however and is looking into whether or not it may come back in another form in the future.
This is not the first unexpected decision regarding the show; the BBC picked up the series before the pilot was broadcast, despite mixed reviews (and unimpressive ratings for the pilot). This last-minute cancellation of the series is, perhaps, an attempt at quietly correcting an earlier mistake - or maybe just a sign that the BBC likes to leave these things as late as possible.
BBC3 drops new drama Phoo Action
[Media Guardian]