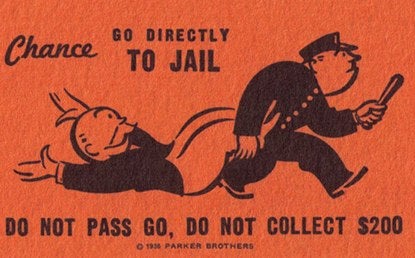 Genre darling Ridley Scott is going to bring to life the famous monocle man in a film adaptation of the famous Hasbro board game Monopoly. Yes, you heard me right — they are making a movie about the board game Monopoly . Not only that, but Scott will be sourcing from his past work directing Blade Runner to give the overall film a futuristic feel. So in the future of Monopoly , will the boot fly?According to The Hollywood Reporter , Scott is attached to the film and plans on making his Monopoly movie have a little glimmer of tomorrow.
Ridley Scott, who has been attached as a producer on "Monopoly" and has been mentioned as a possible director, is now officially attached to helm the project, with an eye toward giving it a futuristic sheen along the lines of his iconic "Blade Runner."
Not only are we getting the real estate take-over movie, but Hasbro is working with Universal on a
Ouija Board
movie, as well as a
Battleship
flick. Wow, have we really fallen into an imagination depression so low that we have to find movies in crappy board games? And if so, why aren't we reaching for the good board games?
Girl Talk
alone had enough sad girl-shaming moments ripe for a classic horror flick. [
The Hollywood Reporter
]