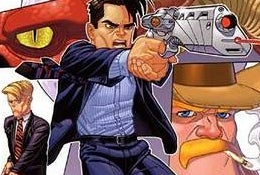 Indie comic publishers aren't relying on Hellboy and The Umbrella Academy alone to break into Hollywood; as publisher Mike Richardson told SciFi Wire, the company is looking to turn a number of their books into movie - and they're starting with a story about dead cops that return to the streets as repo men for God.Richardson told SciFi Wire,
The most immediate is R.I.P.D. ... David Dobkin [Wedding Crashers] is directing. We're doing it over at Universal Studios. We have a great script by [Matt] Manfredi and [Phil] Hay. R.I.P.D. stands for Rest in Peace Department. It's based on a graphic novel by Peter Lenkov. It's about dead cops that died in the line of duty that are sent back basically to get people who don't want to come peacefully, people who stayed behind. It's a lot of fun. ... It has a few of the elements of something like a Men in Black, except this one has real scares in it. It's not sort of a cartoon scares. A lot of humor, but real scary stuff going on.
The
2003 comic
was less
Men In Black
and more of a revenge tale, as RIPDetective Nick Cruz tracked down the man who killed him, but the potential for thrills, chills and most importantly box office boffo is definitely there. This isn't the first time that Dark Horse has gotten a foothold in the movie business; a similar push in the 1990s gave the world
The Mask
,
Timecop
and
Barb Wire
- showing that the publisher's new movie initiative doesn't have too high a bar to try and reach.
Dark Horse, Universal, In Deal
[SciFi Wire]