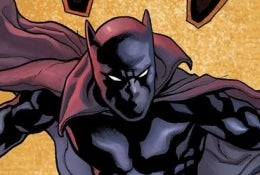 We've known about Marvel's Black Panther cartoon since July , but it was only this weekend that the studio announced who would be providing the voice of Wakanda's warrior king. Now we know who will be heating up his own prime-time series next year: Blood Diamond and Alias star Djimon Hounsou.Commenting that "[i]t's a blessing for African Americans and minorities to have a superhero they can identify with," Hounsou will lend his voice to the superhero, who first appeared as a supporting character for Marvel's Fantastic Four in the mid-60s, as he makes his prime-time debut in next year's BET series, written and produced by former BET President Reginald Hudlin. Marvel Animation President Eric Rollman is clearly happy about the get:
The Black Panther" is Marvel's entrée into prime-time animation, and Djimon raises the bar for all involved as we bring the best in the animation business together to execute that vision.
Of course, despite the show being adapted from the comic book, by the time the animated series makes its debut, it'll bear little resemblance to its source:
Marvel are relaunching the Black Panther comic book with an all-new female Panther replacing the character who's held the title for the last 22 years
.
Hounsou to voice 'Black Panther'
[Variety]