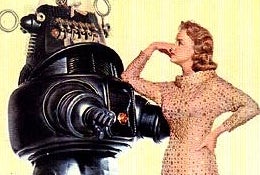 It's not just JJ Abrams' Star Trek remake that's taking upcoming science fiction back to yesterday's future - Now we're hearing that J. Michael Straczynski's Forbidden Planet movie is similarly setting up a trip in the way-back machine as well. The project, announced earlier this week , turns out not to be a remake, but a "continuation" of the original movie - complete with an appearance by the original Robby The Robot.Ain't It Cool News is reporting that the new movie, to be written by Babylon 5 's Straczynski and produced by Joel Silver, will be a "companion piece" to, and "more of a continuation" of, the 1956 movie, including an appearance by Lost In Space star Robby himself, and complete with that authentic mid-20th Century futurist look:
As for the look of the film, it will apparently be an "enormous, giant, retro sci-fi movie"; in other words, they're going to implement the design of the original rather than attempt something modern. As Harry said, nothing "sleek or chromy" like Fox would do.
Between this,
Star Trek
's flashback to the '60s and the announcement of a new
Buck Rogers
movie, it's beginning to look as if the future is all about nostalgia for the Hollywood studios. Whoever is sitting on those
Barbarella
rights, it's time to get that movie into production as quickly as possible to cash in.
We've Got New Details On That Joel Silver/J. Michael Straczynski "Remake" Of FORBIDDEN PLANET!
[Ain't It Cool]