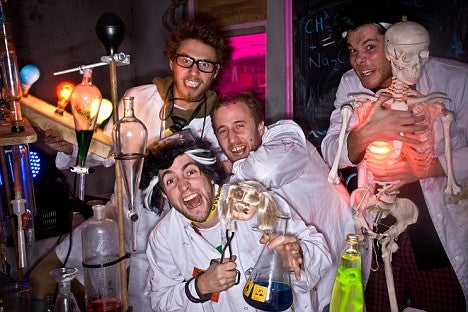 Two hundred years ago, all a mad scientist had to worry about were villagers with pitchforks, but these days mad scientists are being profiled as possible terrorists. This week, police arrested the host of mad scientist-themed party after mistaking the partygoers' bright lights and chemistry sets for explosives or drug-making paraphernalia.Members of the Bearded Kitten/Sugar House Gang held a mad science themed party in Hackney, just North of London. Group members dragged out old chemistry sets, dressed up in wigs and lab coats, and conducted theatrical experiments for their guests with such hazardous materials as food coloring, vinegar, and talcum powder. It was all fun and games until the police showed up:
Caretaker of the property, Richard Watson, 29, was arrested under The Anti-Terrorism Act and questioned while the entire area was evacuated and roads cordoned off with police tape. He said: 'I was handcuffed and put in the back of the police van for over an hour while the bomb squad and drugs team came down. 'There was a ridiculous amount of police there. Every time I looked out of the van I could see a new group of them swarming around… 'They told me they were arresting me on suspicion of making explosives. I laughed at first but then I realised they were being serious.'
Watson was eventually released without charges, but it isn't clear what prompted the police to raid the party. The group was probably fortunate that the experiments they were conducting were more stage magic than actual science. Would the police have been so quick to release Watson had he been using his equipment for more serious science experiments?
Students in 'Weird Science' Halloween party arrested under anti-terror laws
[Daily Mail]