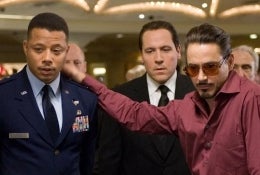 Iron Man himself, Robert Downey Jr., has broken his silence on the increasingly public firing of Terrence Howard from Iron Man 2 , and his subsequent replacement by Don Cheadle, although the blandness of his comments suggest that either he's not been paying attention to tensions on set, or else he's sensibly trying to save himself from getting caught in the crossfire between Marvel Studios and Howard's camp.Talking to MTV, Downey Jr. said,
I had nothing to do with that decision. I love Terrence very very much. That's all I'll say because I haven't talked to him yet... I've always admired Don [Cheadle]... It's one of those situations where I still don't quite know what happened or why. Here's what happens too: things happen and you wind up commenting on them before you've actually talked to the people and it's in poor taste.
This would seem to suggest that Downey wasn't
one of the people "unhappy" with Howard's performance on the set of the first Iron Man
- or just that he knows better than to go about making enemies right now. We're hoping for the latter, if only for the potential gossip that will inevitably spill out when one of the sides decides to go all out in the PR battle.
Robert Downey Jr. On Terrence Howard/Don Cheadle 'Iron Man 2' Swap
[MTV Splash Page]