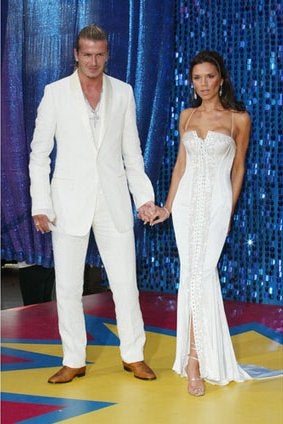 Now that Stan Lee is working on his superhero makeover of Paris Hilton , he's looking for other celebrities to render in superhuman form. The next duo on his wishlist is power couple David and Victoria Beckham, whose good looks and charm make them, in his mind, a natural for costumed crimefighting. So, what would a Beckham superhero show look like?Lee ran down a few possibilities for a Beckham show:
He says, "There are so many ways to do it. We could make them a crime fighting team where the soccer is just a facade. Or we could make them spies or we could make it a comedy where one of them wants to be an adventurer?"
Personally, I think the undercover angle doesn't suit the Beckham lifestyle. Posh would be far more likely to sign them up for a reality program offering a behind-the-scenes look at their heroic exploits (with their costumes changing each mission, a la the Wasp). We'd get an inside look at David's superpowered workout routine, the renovations on their high-tech crimefighting lair, and Victoria's elaborate preparations for the annual Costumed Ball, where superheroes, movie stars, and heiresses all don their best spandex for charity. Of course, the show's most loyal viewers would be supervillains, who initially watch it as a means of exploiting the Beckhams' weaknesses, but ultimately find themselves caught up in the drama and the pair's star power.
Lee Eyes Beckhams for Comic Book Capers
[contactmusic]