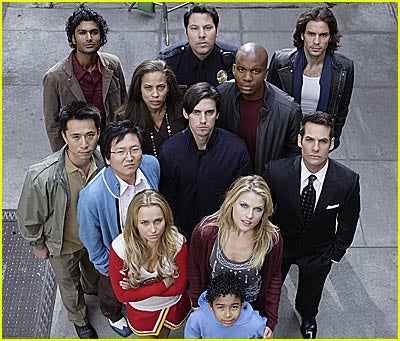 With the increasingly bloated cast of NBC's Heroes and a pub full of powers in No Heroics , it might seem like there's hardly room for another set of caped characters on TV. But BBC1 has given Joe Ahearne the go-ahead to pen Superpowers , a show inspired by his love of Marvel comics. And the one-time Doctor Who director assures the viewing public that his isn't going to be like all the other superhero shows.Ahearne told British entertainment paper The Stage that he plans to do a more classic interpretation of the superhero genre than is currently on British television:
"It is a new and original superhero idea which is not a send-up. All the super hero stuff that is on TV in this country - ITV's No Heroics, My Hero - British TV is happy to do if it is a send-up, but no one has done it for real. There is a particular gimmick in mine, which I won't give away, but it means it will be refreshed every episode," he revealed.
But the show won't be a superpowered soap opera, either. Instead, each episode will follow the story of a single individual from beginning to end. And honestly, after the many and meandering plotlines of this season's
Heroes
, a superhero anthology sounds like a breath of fresh air. And if Ahearne can bring the same sort of sensibilities to superheroes that he brought to vampires in the
Ultraviolet
miniseries, we could be in for something special.
BBC1 plans Marvel comic-inspired superhero series
[The Stage via
Coventry Telegraph
]