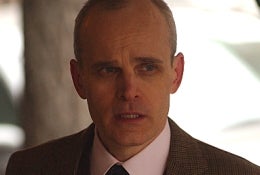 If the second half of this year's season of Heroes is subtitled Fugitives , then it only stands to reason that there has to be someone that they're all fugitiving from - Now their hunter has been revealed... and, with typical Heroes subtlety, he's called The Hunter. But who is he hunting, and is he going to be as unimpressive as Villains ' villains?Following news that Heroes producers were looking for a "Tommy Lee Jones type" for a major role in the series' fourth volume, E! Online's Kristin Dos Santos broke the identity of a character who could turn out to be a mover and shaker for NBC's superhuman soap:
Sources tell me exclusively that Zeljko Ivanek, who just won an Emmy for Damages, will be joining Heroes later this season. He'll appear in a multi-episode arc as a character named the Hunter. Sounds pretty awesome, no?
If you're not a
Damages
fan, that doesn't mean that you've never seen Ivanek before; he played Juliet's unlucky husband Burke in the last season of
Lost
, which means that he should definitely stay away from any speeding buses in Tim Kring's shock-happy show. The Hunter will apparently make his appearance in the season's fourteenth episode, the first of the
Fugitives
arc. There is still no word when the series' one-armed man will appear, but when he does, don't be surprised if his power is yet another one
ripped from the comics page
.
Emmy Winner Comes to Heroes
[E! Online]