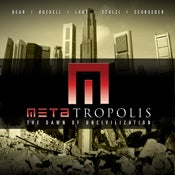 Instead of reading about the stock market this afternoon, divert yourself by listening to some near-future tales of the ecopocalypse instead. The first story from John Scalzi's new audiobook anthology Metatropolis is online for free, and it sounds fantastic. Written by Jay "Mainspring" Lake and read by Michael "Saul Tigh" Hogan, the story is called "In the Forests of the Night" and it follows the general theme of the book, which is that environmental collapse has completely transformed urban life. The collection also includes contributions from Elizabeth Bear, Tobias Buckell, and Karl Schroeder (which is like my scifi dream team). Here's the premise of the book, according to Scalzi:
Welcome to a world where big cities are dying, dead - or transformed into technological megastructures. Where once-thriving suburbs are now treacherous Wilds. Where those who live for technology battle those who would die rather than embrace it. It is a world of zero-footprint cities, virtual nations, and armed camps of eco-survivalists. Welcome to the dawn of uncivilization.
The whole book comes out Tuesday, so start warming up your audio devices using solar or bicycle power. You can download Lake's complete story
here
, and get samples of other stories
here
. I'm always excited to see another Scalzi joint.
Your Weekend Goodie: Free Metatropolis Story
[via Whatever]