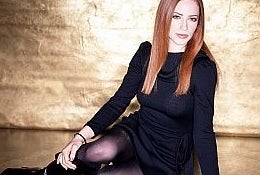 After losing his love to Nathan Stark - who showed his gratitude by promptly dying on his wedding day - and losing his job, Eureka 's Sheriff Carter was due a break. It looks like he's going to get one, too; the series is about to add a new love interest for Colin Ferguson's lead character, and she's smarter, more imaginative and just plain hotter than anyone else on the show.According to The Hollywood Reporter, Stargate: Atlantis and Heroes alumna Jaime Ray Newman (although she'll always be Veronica Mars ' Mindy O'Dell to me) is joining the SciFi Channel series for at least five episodes as Dr. Tess Fontana, who's described as
a brilliant engineer and astrophysicist who sees things differently than those around her. Her scientific imagination knows no bounds putting her at odds with the mainstream scientific community.
Whether that's the mainstream scientific community or Eureka's mainstream scientific community is uncertain; after all, those guys tend to build the ridiculous and impossible on a weekly basis over there, so "mainstream" is somewhat of a movable feast. Of course, the
Eureka
news we're really waiting for is when the show will come back to complete its third season...
'Eureka' nabs Newman for role
[Hollywood Reporter]