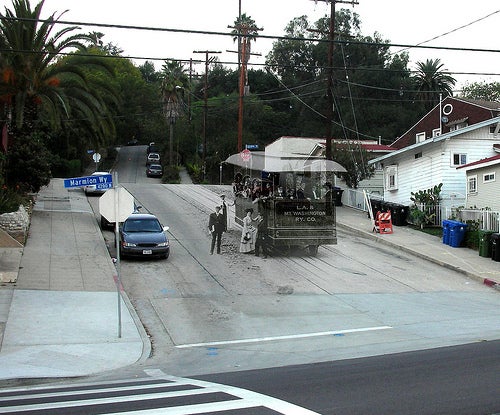 I've been thinking about this haunting piece of photoshoppery ever since I saw it on the Dinosaurs and Robots blog last week. Designer Kevin Kidney created it by merging two images of the Los Angeles street where he lives: One from today, and one from 1909, when Los Angeles was riddled with cable cars. Human ghosts are not the only ones that return to remind us of the past. Sometimes the ghosts of public transportation return too. Kidney writes:
My current home is near the top of Mt Washington, and several times a week I jog down this same street to catch the Metro Rail at the bottom of the hill. As I hike back up, panting, I sometimes imagine I'm being passed by one of the iron cars of the Los Angeles and Mount Washington Railway. Inside, the passengers in their colorless hats and collars sit on wooden benches gazing out at the passing front yards. And as they go by, I realize not one of them can see me.
So cool. Reminds me of the post we did a while back on the alternate history of
public transportation projects that almost happened
.
Ghosts of Mnt. Washington
[via Dinosaurs and Robots]