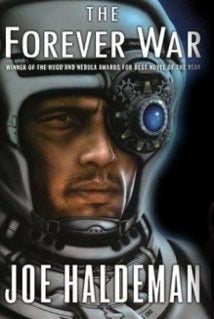 So it appears that Ridley Scott is intent on getting his hands on all the greatest science fiction novels and turning them into blockbusters, which sounds fine to me. Last week, we reported Scott was determined to bring the complex novel Brave New World to the big screen. Now the trades are reporting that Scott is adding The Forever War to his scifi to-do list. In fact, he's been trying to get the rights to Joe Haldeman's 1974 novel for 25 years. One thing's for certain: we really need to add Scott to our book club.The man isn't just stepping back into the scifi genre he's jumping in head first, and we applaud him for it. Scott told Variety:
"It's a science-fiction epic, a bit of The Odyssey by way of Blade Runner, built upon a brilliant, disorienting premise."
This is an exciting project, and it might actually be easier to bring to the big screen then
Brave New World
. According to the trade, Scott has yet to hire a writer to adapt the novel and still has many other movies on the front burner. The book follows the story of a war between humans and the Tauran species. The main character, Private William Mandella, works out his duty to the government in space, fighting the good fight, only to return to his home world which has moved ahead centuries past him. Due to the effects of faster-than-light travel, Mandella is centuries younger than the world he left.
Forever War
also deals with wartime inhumanity and injustice. [
Variety
]