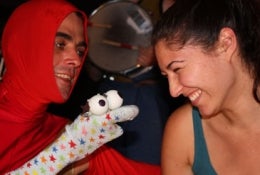 If the idea of a "space rock musical" about a human teenager (played by Emily Stern, Howard Stern's daughter) getting mixed up with an alien popstar and healing the rift with her emotionally-distant NASA scientist father sounds like your idea of a good time, then... well, we should probably sit down and talk about whatever tragic circumstances brought about your twisted view of reality. But that doesn't mean that such a musical doesn't exist - it's called Earth Sucks and, according to Variety , Earth isn't the only thing about the project that sucks.Variety isn't pulling punches about the musical:
There is little laudable about "Earth Sucks," an incredulous rock tuner featuring a woefully simplistic book and score by Jonas Oppenheim, generally inadequate perfs by the ensemble and no sense of style or pacing by Oppenheim, who also helms... As the forlorn space gazer, Stern (daughter of radio host Howard Stern) projects an appealing amalgam of neediness and chutzpah but does not have the vocal veracity to elevate such melodically undernourished tunes as "Earth Sucks," the Swayze-rejecting "I Need My Space," and "Please Send Help" (with Fairbanks). Very few of this tuner's 24 songs rise above the level of barely adequate, including the instrumental backing of the Citizens of Earth Band.
We haven't seen the musical ourselves - it's in LA, unlike any of us right now - but we have to admit, the snippets of music on the
official site for the show
kind of makes the show sound a little bit better than that. Maybe we're not as cultured as Variety... or maybe we just know what it feels like to be sick of Earth that little bit more.
Earth Sucks: A Cosmic Rock Musical
[Variety]