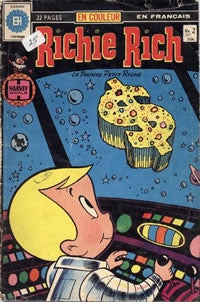 Where should you put your money in these uncertain financial times? Once-prudent investments in housing and the stock market no longer provide safe financial refuge for your hard-earned dollars. But some suggest that, when searching for a stable place to invest your money, you need look no further than your comic book collection.Some investors are selling off their stock and buying up vintage comic books, believing that the timelessness of comics offers a more secure long-term investment than stocks have of late:
Mark Craddock, manager of Comic Book World, in Florence, Ky., says stock-market investors also are turning to superheroes. "There's kind of a buying frenzy" in vintage comic books, he says. The "Silver Age Comic Book Pricing Index" of 32 frequently traded '60s comics, was up 14.2% in the 18 months ending in July, while the Standard & Poor's 500 stock index was down 11% in the same period. Mark Haspel, president of Certified Guaranty Co. in Sarasota, Fla., which grades comic books, often for investors, says it's on track to handle 200,000 books this year, up from 150,000 in 2007. "Spider-Man is going to be here in 20 years — he's not going away," Mr. Haspel says.
This isn't the first time comics have been suggested as a wise investment. Last year, Kevin Hassett, director of economic policy studies at the American Enterprise Institute noted that the
returns on comic books beat out those of most other collectibles
, including art and antiques.
When Stocks Tank, Some Investors Stampede to Alpacas and Turn to Drink
[Wall Street Journal] (
Via
)